I started to learn English when I was twelve years old, but at that time I wasn't convinced that one day I would speak this language. When I was a little girl, I used to listen to a mixtape with Shakin' Stevens's hits. I couldn't understand a word, but I wanted to sing along with him so badly that it didn't matter if I knew English or not. For the first time, I was aware why I want to learn a foreign language. Then I fell in love with Elvis Presley, but that didn't help me to learn English at that time. Grammar seemed to be very complicated and I didn't try hard enough to learn the vocabulary well.
Everything changed in high school. I had ten hours of English a week and I studied at home a lot. The more I understood, the more I wanted to know. I also started to learn German and I really liked this language. Why do I tell you that?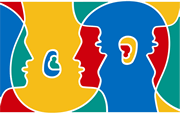 Today is the European Day of Languages. Learn foreign languages! Although it may seem a difficult job, it's definitely worth it.
I promised my 6th graders to upload a little grammar help. They're currently learning how to describe a person. So here's a short revision of the use of the verb "have got" in Present Simple and Past Simple.